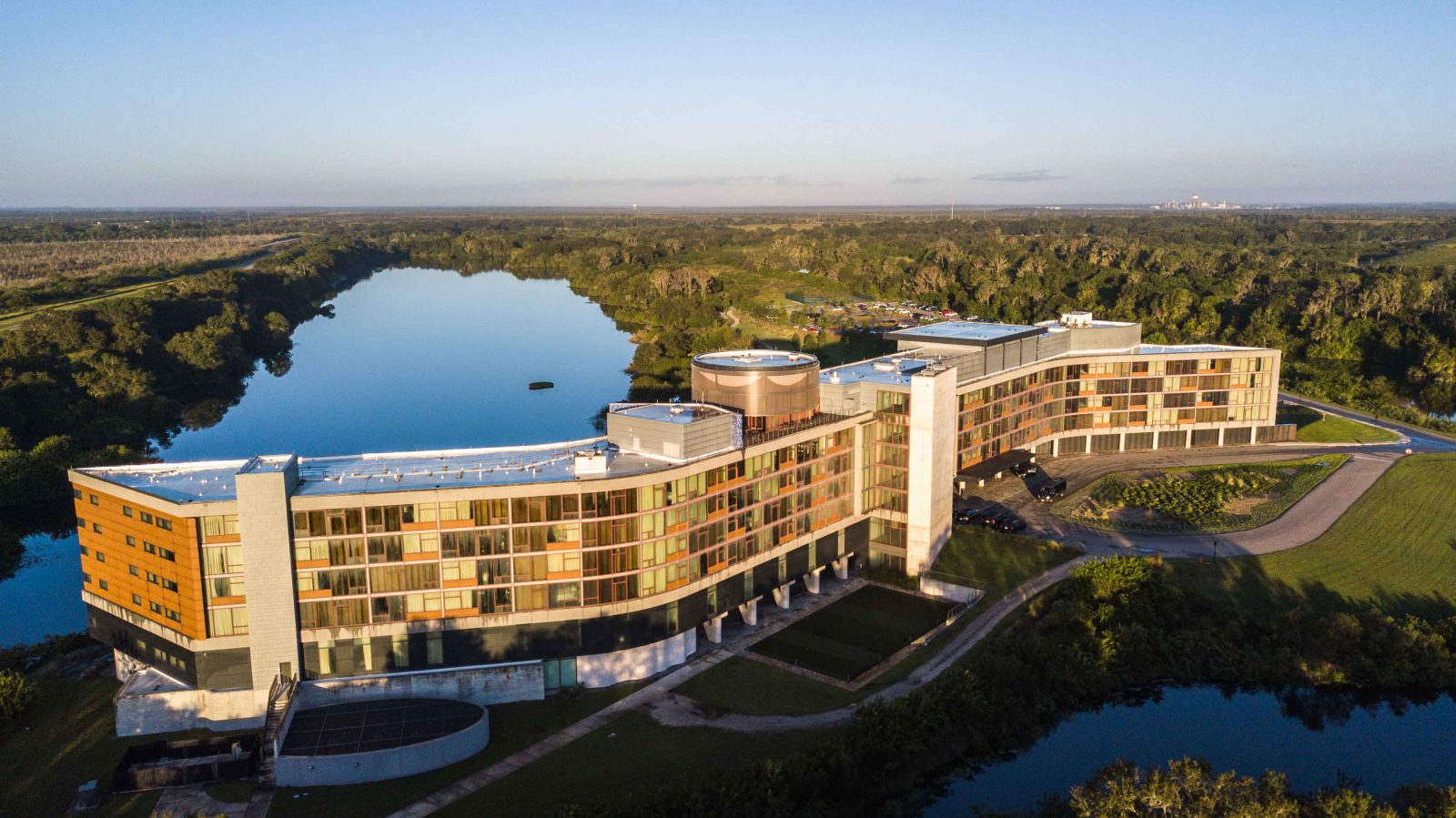 Seas of Change
Many millions of years ago, land that is now Streamsong Resort was covered by oceans and exposed land, home to both giant earth and sea creatures. Thick forests and grassy plains provided refuge for shovel-tusked mastodons, hornless rhinos, humpless camels and 30-foot crocodiles. Warm waters surrounding the area were filled with a rich variety of prehistoric marine life, including the notorious and now extinct giant shark, Megalodon like the one displayed in the Resort's Lobby.
Glacial activity caused the oceans to rise and fall again and again over a 50 million year period. At times, Florida was twice its current width. At other times it was less than 100 miles long and 10 miles wide.
Man's activities here trace to early Indian tribes living in native villages throughout the region. Hernando DeSoto and his army camped on this property in 1539. Early settlers endured incredible hardships to tame Central Florida's vast, wild lands for ranching and farming. Their story is chronicled in the award-winning novel, A Land Remembered, which is found in every guest room of Streamsong Lodge.
It's in our Bones
In the late 1800s came the discovery of massive phosphate rock deposits that had formed 10 to 15 million years earlier when the oceans receded and the remains of sea life settled into the deep sediment layers that were left behind. An industry was thus born that would become the economic backbone of Central Florida for more than a century.
Fossils discovered in the phosphate mines of Florida have revealed much about the history of the land. They tell us that many species of mammals came to tropical and sub-tropical Florida forests from other parts of the world to escape the advancing glaciers of the great "Ice Ages." Thanks to the unique geological characteristics of this phosphate-rich region, most of the fossils are beautifully preserved, with amazing detail and color. To this day, the land surrounding Streamsong is known as the Bone Valley region of Florida.
Streamsong Today
The Mosaic Company, founders of Streamsong, we're always seeking ways to further enhance the land it reclaimed after mining and to support the communities where it operated.  In 2012 Mosaic embarked on an innovative development opportunity called Streamsong as a prototype for post‐mining economic and environmental sustainability. Moving from one land use to another, Streamsong showcases how reclaimed land can be commercially developed in an environmentally responsible manner, while also becoming an economic driver for rural areas.
Since opening experienced biologists, botanists, environmental engineers and committed hospitality professionals have done more than just reclaim this formally mined land; they have improved it. A bold vision that started just over a decade ago now helps support the local economy creating over 450 hospitality-related jobs, and protecting the land, water and wildlife – all paramount to the resort's ongoing operation, now stewarded by KemperSports. Streamsong is a place where individuals and organizations can accomplish things of value and return renewed.
The transformation of this unique landscape gave rise to a one-of-a-kind golf destination now known around the world as a place so aptly named – Streamsong. No highways, no houses or condos, no obstructed sunrises or sunsets. Just the sights and sounds, the flora and fauna, the water and wind of natural Florida.
Finding your way to Streamsong® is easier and closer than you think. Our luxury accommodations, three renowned golf courses—Streamsong® Blue, Streamsong® Red, and Streamsong® Black are located within 90 minutes of both Tampa and Orlando and 30 minutes south of Lakeland in Central Florida.
GET DIRECTIONS
GET DIRECTIONS FROM AIRPORTS