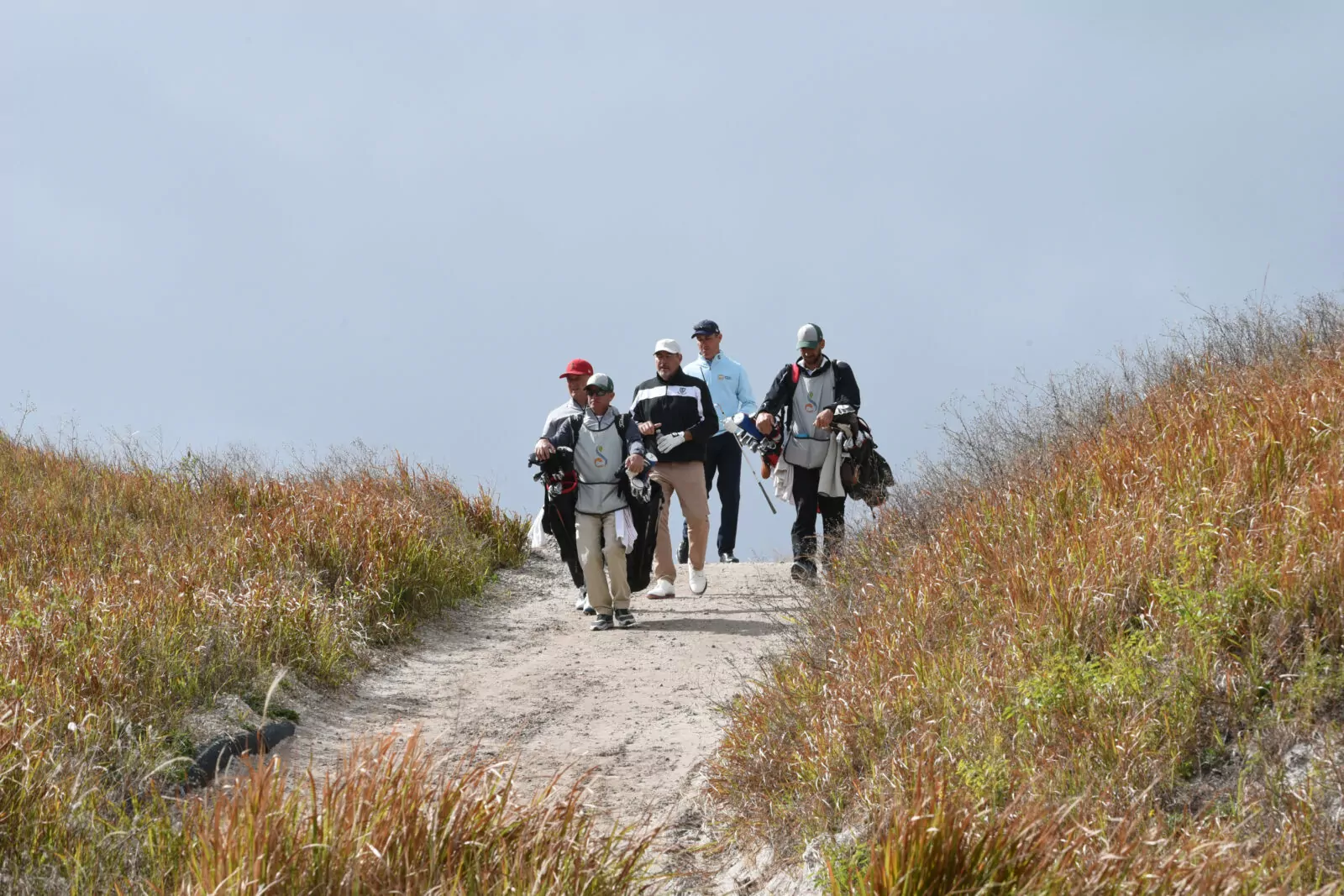 We believe the best way to properly experience the game of golf at Streamsong is to walk with a caddie. Caddies come to Streamsong Resort with a range of skills honed at some of the country's most exclusive private clubs and resorts. All of our caddies are capable of providing caddie services from one guest to as many as four.
To maximize your experience, we provide seasoned caddies to accompany you and your group on each course. The same caddie will remain with you for your entire stay. Please let us know of your caddie requirements prior to your visit so we can pair you with a caddie who best fits your game. Feel free to contact our Caddie Services Department at (863) 428-1000.
WALKING CADDIE*
Double Bag $100 + Gratuity/per player
Single Bag $120 + Gratuity/per player
GROUP CADDIE* (A forecaddie is required for all riding players at all times).
$45 per player + gratuity
*Caddies are Independent Contractors and the amount of compensation shall be determined solely by and between the caddie and the golfer and shall be paid solely by the golfer. Caddies receive no compensation from Streamsong but only from the guests.
Riding Golf Carts – $35 per player, per round. A forecaddie is required for all riding players at all times.
Rental Clubs – $100 per set (includes six golf balls)
Caddie Requests
Whether it is a caddie from a previous visit or a recommendation, we consider it a great compliment if you wish to request a specific caddie. Since our caddies are scheduled in advance,  requests should be made well ahead of your visit—especially as Streamsong caddies are independent contractors who choose their work. They may not be available because of conflicting requests or planned time off; if that is the case, we will provide you with an excellent replacement.
Given the volume of bags carried at Streamsong, our caddies are skilled in carrying two bags. Although there are occasions where we can provide single-bag caddies, we are not able to guarantee this service. Our mission is to enhance your experience, and we have found that our caddies are able to accomplish this goal while still carrying two bags.
In addition to caddies who carry bags, we have group caddies available to assist should you be riding. Group caddies can guide you through the individual course routings, give presentations of each hole, assist with all chores (i.e. bunker care) and offer advice on yardage and putts. One group caddie is able to assist your foursome through your round of golf, further enriching the golf experience while at Streamsong Resort.
Caddie Fees
At Streamsong, caddies and group caddies are paid in cash, with the amount of any fee at the sole discretion of the player. Our expectation is that a caddie's performance will exceed your expectations and warrant at least the average fee.
Our objective is to enhance your time at Streamsong Black, Streamsong Blue, and Streamsong Red by utilizing a caddie. If you wish to comment on a caddie's performance, please feel free to contact our Caddie Services Department at (863) 428-1000. We welcome your impressions, and want to ensure we have met your goals, as well as ours.
Caddie Roster
When it comes to perfecting the game of golf, you need to be at your best. You also need the right equipment, the right mindset and, above all, the right advice to make the perfect shot.
And when it comes to knowing the lay of the land and the slope of the fairway, there are no better advisors in the game than the caddies of Streamsong. With over 200 caddies in our caddie yard, there will always be an expert on hand to walk you through the natural contours and many nuances of Streamsong Black,  Streamsong Blue, and Streamsong Red.
Here are just some of the outstanding clubs and courses where our current roster of Streamsong caddies have previously caddied:
Aronimink
Baltusrol
Bandon Dunes
Bethpage Black
Butler National
Chambers Bay
Congressional
Erin Hills
Forest Dunes
Friar's Head
Gulph Mills
Honors Course
Medinah
Merion
National Golf LInks
Oakmont
Pine Valley
Prairie Dunes
Riviera
Shinnecock Hills
The Country Club
The Ocean Course at Kiawah